QSC GP212sw Subwoofer Passif 1100Wrms
The GP212-sw is a premium, high-performance, rectangular dual 12" 4th order band-pass subwoofer designed for ground stacked use in touring or installed concert applications where space constraints or enclosure size are an issue. With an impressive combination of punch, low-frequency extension and musical accuracy, the GP212-sw is an ideal companion for QSC's acclaimed WideLine series as well as other professional sound reinforcement systems.

For suspension in permanent installations each GP212-sw subwoofer comes with a total of six (6) threaded M10 inserts.

For ground-supported applications, the subwoofers may be stacked horizontally using their interlocking feet and recess features machined into the enclosure's top panel. A screw-in (M20) pole mount has been added to provide flexibility in use with small 2-way pole mount full-range speakers.

Spécifications:
Configuration: 2x12" Bandpass 4th order

Réponse en Fréqu(-3dB): 40Hz - 100Hz

Bande passante (-10dB): 32Hz - 107Hz

Impédance Nominale: 4 Ohms

Puissances RMS: 1100W

Puissance max. recommandée: 1650-2200W

Sensibilité 1W/1m: 99dB

Niveau SPL continu/max: 129,4dB / 135,4dB

Connectique: 2x Speakon NL4 (+1-1Sub, +2-2NC)

Dimensions(HxLxP): 381 x 508 x 737mm

Poids net: 45,1Kg
Accessoires:
CP212-1: dolly avec cover pour 1 Sub

CP212-2: Dolly avec cover pour 2 Subs stacké
Autres produits QSC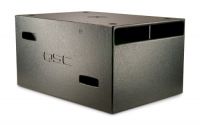 2199.00 €

Demande d'information
Référence : SPK-GP212SW
Produit ajouté le 16/06/2008 08:06
Dernière modification le 10/03/2009 17:03